Check out these six cool options to keep you and your family entertained in Victoria BC this May!
­­­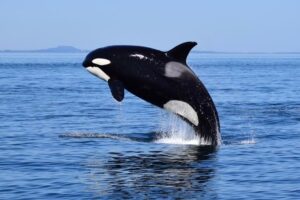 Whale Watching with SpringTide
May is a fantastic month for whale watching! Join us here at SpringTide on our High-speed Zodiac Vessels or our 61' Ocean Cruiser, Marauder IV, for a 3-hour Whale adventure. Both Killer Whales and Humpback Whales can regularly be seen in our waters in May, with the occasional Gray Whale or Dall's Porpoise.
­­­­­
Bastion Square Artisan Market
The artisan market in Bastion Square kicks off in May, and runs every Thursday, Friday and Saturday from 11am-4:30pm, and every Sunday from 11am-4pm. Goods include artisan jewelry, clothing, toys, figurines, paintings, photographs, carvings, and specialty items.
Mother's Day Paint-In & Craft Fair at Hatley Castle
Looking for somewhere to take Mom this year? Hatley Castle offers an enchanting atmosphere with live entertainment, an artisan craft fair, and activities & crafts provided by West Shore Parks & Recreation. Take a stroll in the fabulous Rose Garden to top off the day. Can't make it to the castle? Victoria has been dubbed the "Brunch Capital of Canada", and many restaurants offer special Mother's Day brunch menus.
Victoria Highland Games & Celtic Festival
Welcome to the 153rd annual Highland Games & Celtic Festival. Catch the pre-festival events such as the Tartan Parade, downtown on May 14th, or the Tilted Kilt pub crawl on the evening of May 18th. Then, get into the main event (May 21st-23rd) with Piping & Drumming bands, Heavy events, music, dancing, and special events such as the Kilted Mile Race and Herding events. For some adult enjoyment, visit many Beer Gardens or join the Whisky Tasting School.
Island Farms Victoria Day Parade
Victoria Day is a Canada-wide holiday celebrating the birthday of Queen Victoria. On May 23rd, catch the 118th Island Farms Victoria Day Parade, which travels down Douglas Street, beginning at Mayfair Mall and ending downtown at Humboldt Street. Starting at 9am, the parade will last for 2 hours.
Swiftsure International Yacht Races
The first Swiftsure race was a Lightship Classic held in 1930. Since then, these races have drawn boats from British Columbia and Washington, as well as California, Hawaii, New Zealand, and even Russia. These races are qualified as International since the mid-point markers for the races are in US waters. The best place to catch the start of the races is at Clover Point at 9am on the morning of Saturday, May 28th. After completing the course, the boats will cross the finish line at Ogden Point, starting late on Saturday and continuing all day Sunday.